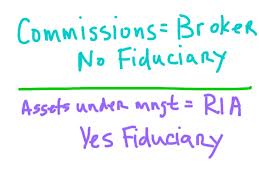 These are the "FIDUCIARY ACCOUNTS"
ALL trust accounts – family, children's, grand children's, GST, charitable, special needs, etc;
ALL IRA, IRA Rollover, 401K rollover accounts;
ALL private, corporate ERISA Qualified pension plan, 401k plan accounts;
ALL public employees' (state, county, city, agency – fire, police) pension plan accounts;
ALL union (Taft – Hartley Act), collective bargaining or multi – employer pension plan accounts;
ALL non profits, foundations and endowment investment accounts, and their 403b plan accounts;
HOA (home owners association), Cemetery Trust investment accounts;
Every investment, asset or life insurance, annuity, real and or intellectual property or closely held business in any of these FIDUCIARY ACCOUNTS is subject to fiduciary duty.

Any

other type (individual, joint, tenants in common, partnership, etc.) of account, depending on the facts and circumstances may become subject to fiduciary duty; this can arise at

any

time, encompass

any

asset, liability, real estate, insurance, annuity, intellectual property copyright, patent, trademark, trade secret and or family / closely – held business.
The scope of accountability implicit in fiduciary duty per Judge Cardozo, 1928 in Meinhard v. Salmon:

A trustee (i.e. fiduciary) is held to something stricter than the morals of the marketplace.  Not honesty alone but the punctilio of an honor the most sensitive is then the standard of behavior…
In nearly every dispute whether trust or non-trust account, IRA, ERISA pension retirement benefit plan, charity, non-profit, foundation or endowment account, at the outset parties form a trusting relationship, promises are made, expectations are created, reliance and often complacency can take root, disappointments occur, communication wanes, account values continue to suffer, risks increase, prudence gaps manifest then arbitration claims or lawsuits are filed.
It's best if we can be retained prior to the establishment of the new account (or new advisory) relationship to help prevent these types of situations  When lawsuits or claims are contemplated we prefer to be involved at the earliest opportunity prior to filing.
For concerns related to breach of fiduciary duty, self-dealing, conflict of interest or malfeasance or violations of FINRA or SEC securities industry rules and regulations please contact us at:
For more information info@fiduciaryexpert.com or (310) 943 – 6509
© Chris McConnell & Associates 2003 – 2016 All rights reserved