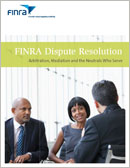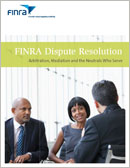 FINRA arbitration is generally mandatory for investors with losses in individual investment, IRA, pension, trust or institutional prime brokerage accounts.  Claims for breach of fiduciary duty, suitability, failure to supervise are frequent.
Chris McConnell, AIFA® Fiduciary Expert brings over 30 years over securities experience including hands-on experience, knowledge, securities, life and annuity licensing and fiduciary training plus expertise into both the compensation plans for stock brokers, branch managers and supervisors usually involved in most customer complaints and branch, region and firm-wide P&L's.
In addition, Chris McConnell & Associates, FiduciaryFORENSICS® has access to several securities and compliance professionals including self regulatory organizations like the NYSE, and at the SEC and at major securities broker dealers stretching back to the 1960's.
Securities and or Investment Adviser Arbitration Mediation (FINRA, AAA or other alternative dispute resolution forum) for claims involving introducing brokers, carrying and clearing agreements and margin account (Reg. T) agreements and senior citizens,elders, trustees and charities pose unique document discovery challenges.
Important customer account details or files can be lost, confused or incomplete when multiple entities, companies, individuals, forms, documents, agreements are involved.  Compliance with internal policies and procedure and industry rules and regulations for claims involving introducing brokers, carrying and clearing firms; also when a stockbroker changes firms multiply the chances things can fall through the cracks.
Customer accounts with investment advisory, wealth management or financial planning firms custodied at a third party custodian can create greater risks to compliance with FINRA rules and regulations.  Personnel turnover, electronic oversight instead of face-to-face, in branch personal knowledge can compromise customer account compliance and protection.
For more information info@fiduciaryexpert.com or (310) 943 – 6509
When you consult the Fiduciary Expert, you'll know what you don't know
© Chris McConnell & Associates 2003 – 2013 All rights reserved