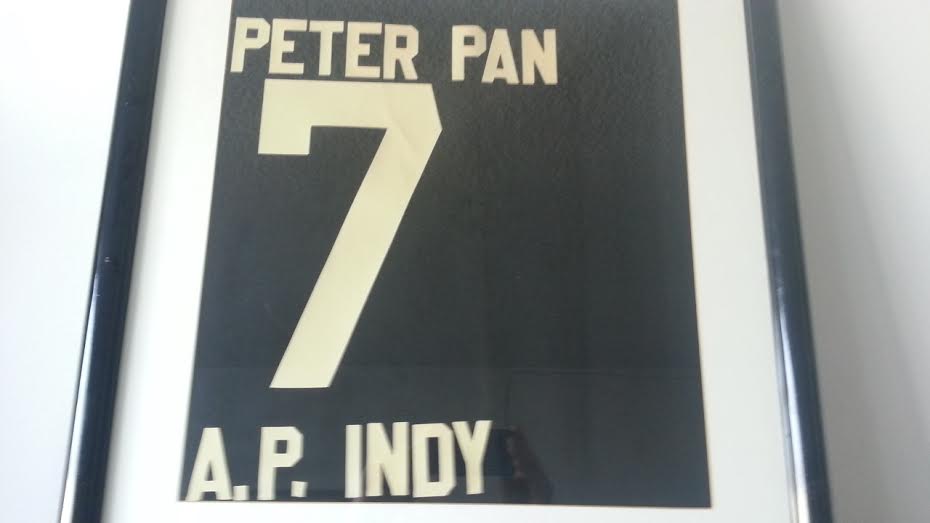 According to the NY Times, "a 36th year went by without another Triple Crown champion, and California Chrome joined 12 other horses who could not get to the finish line first in the Belmont Stakes. Greatness is not prophesied. It is earned here on the racetrack, and feel-good stories are not moved to the front of immortality's line."
NOTE: DAP is the acronym of Dumb Ass Partners, the name of the racing stable campaigning California Chrome, see Wikipedia link here.  And a brief excerpt here:
DAP stands for "Dumb Ass Partners"—a tongue-in-cheek response to a passerby who questioned their wisdom in purchasing the partnership's first racehorse, the mare Love the Chase, who became the dam of 2014 Kentucky Derby and Preakness Stakes winner California Chrome, her first foal.[2] Coburn owned a 30% interest in the horse and in July 2015 sold his share to Taylor Made Farm. Following the sale, Martins and Taylor Made each sold "a few" shares in the stallion to "select breeders who would support the horse," forming the ownership syndicate California Chrome, LLC. The DAP partnership had jointly owned other horses, including California Chrome's full siblings and his dam, Love the Chase.[3]
Horse racing fans are a rare breed, they love and vigorously defend the SPORT.  The sport is as popular as it is worldwide, at root because of fair competitions.  Yet the owner of a losing horse,  Coburn, (though the horse, trainer who is 77 year old Art Sherman, jockey Victor Espinoza and owners kept us paying rapt attention with an almost unforgettable Cinderella story for the past five weeks) now chooses to throw the most famous (and difficult) challenge of that sport under the bus.
Coburn's comments:
"It's all or nothing," said Coburn, 61, who said he did not expect to see another Triple Crown champion under the current format. "This is not fair to these horses that have been running their guts out for these people who believe in them." Then called for a number of rules changes to the Triple Crown series, and impressing us (not) with his stunning intellectual prowess, by informing us there are "three races and three points on the Triple Crown trophy."
Of one thing we can all bet on and collect, had California Chrome won the Belmont Stakes there would have been no mention of the Triple Crown being unfair or calls for rules changes thereto.
Tonalist (named after the tonal style of painting), like AP Indy in 1992 did not run in either the Kentucky Derby or the Preakness, won the Peter Pan Stakes (a prep stakes on May 10th at Belmont) before winning the Belmont Stakes.  The Daily Racing Form chart shows Tonalist was sent off at 9 to 1, defeated ten other horses including the Kentucky Derby and Preakness winner, California Chrome, the 4 to 5 favorite who ran fourth in a dead heat, off the board.
Tonalist, as noted in the chart, did not have what any would describe as an "easy" trip; he was strung out four to five wide on the first turn (something that many lightly raced, fresh horses fail to overcome to win the race.)  California Chrome, let us not forget, was permitted by the NYRA stewards to race with a nasal strip; in 2012 I'll Have Another was not allowed, however it became a moot point as he was scratched from that Belmont due to a leg injury.
I happen to have the saddlecloth worn by AP Indy in the Peter Pan, a gift from AP Indy's groom whom I met at the 1992 Breeders Cup held at Gulfstream Park, a truly sporting gesture I will never forget.
Why is it called the Sport of Kings?
Dan Rosenberg provides as simple and good an explanation as I've heard.  Dan Rosenberg, owner of Rosenberg Thoroughbred Consulting of Midway, Ky., says an Englishman once told him the "Sport of Kings" reference is misleading.  "If you are playing tennis or golf or cards or any other sport against the king, you dare not win," says Rosenberg "But your horse could beat his horse on the race track."
Racing is not fair it's a sport and it can be ironic
In a strange, weird twist of fate, according to USA Today, AP Indy is California Chrome's great – grandsire, yet he skipped the Derby and the Preakness and won the 1992 Belmont, his seventh straight victory, defeating My Memoirs, Pine Bluff and the much heralded Strike the Gold, who was making a homecoming back to Belmont Park.  California Chrome's father, Lucky Pulpit, was the son of Pulpit, who was the son of A.P. Indy, who later in 1992 won the Breeder's Cup Classic, the richest race in North America with its $5 million purse, which I witnessed.
Dumb Ass Partner
What Coburn really meant to say (and for all of us to understand – we get it) is "the sport is not fair to me or my property interests."  DAP (Dumb Ass Partners) were called "dumb asses" for spending $8,000 to purchase a mare, named Love the Chase and breeding her for $2,500 to Lucky Pulpit, the foal (their and the mare's first) was California Chrome and they proved their critics very wrong.  However, the critics have been partially vindicated as Coburn himself proved that yesterday and today he is a Dumb Ass "Partner".
Race
USA reported before the Kentucky Derby, Mr Coburn made these remarks at a press conference:
But his statement was emphatic.  "With a good break and a clean trip, I think it's a done deal. That's just my personal feeling. That's what I have right here (pointing to his heart). I think it's a done deal," Coburn, who lives in the Reno area, said at a press conference.
Steve Coburn can learn a lot reflecting on the meaning of the four letter word "R-A-C-E" as in a competition to determine a winner.  In horse racing especially (I've been a fan for over forty years, as a teenager worked summers on the backside as a hot walker at Monmouth Park, Oceanport, NJ; later at Apt-to-Acres, a very large, successful standard-bred breeding farm in Englishtown, NJ and been to all the Triple Crown races multiple times) there is what's called "racing luck".
It happens to one degree or another in EVERY race, and whether or not Steve Coburn chooses to accept reality – racing luck played a part in yesterday's race, as you can read here.  And it played a part in the Kentucky Derby and the Preakness too, to his and his horse' benefit.  (To be fair to the horse, California Chrome suffered a nasty gash above the hoof and ran behind horses, with dirt flying up in his face, a position he had never been successful in before and finished fourth, beaten two lengths in the mile and half Belmont; still a $100,000 4th place purse money spot is a very credible performance.)
A NY Times reader wrote this – the simplest, perhaps best comment:
There was only one horse competing for the Triple Crown today, and for that title, he was competing with history. Was he greatness? A Triple Crown winner must be able to beat all comers to win that victory, whether they are spoilers or not. Greatness is great because it's hard, it's difficult, it's exceptional.
Perhaps Coburn could use a drink (or two)
We invite Steve Coburn to take the edge off with a perfect cocktail from the SmartBar (see the 4 minute video) showing the first fully portable, self-contained, automatic, patented cocktail machine.
The only thing standing – times dos
California Chrome on Bleacher Report.  The only thing standing between him and a place alongside some of the best horses ever is the 12-furlong endurance test known as the Belmont Stakes.
The President to bankers, April 2, 2009.  President Obama to certain Wall St bankers, April 2, 2009 as reported in Politico "the public isn't buying that gentlemen…my administration is the only thing [standing] between you guys and the pitchforks." (his retort to bankers' "we still have to pay (ourselves and) people extraordinary amounts of money because we are competing for talent internationally").
Changing the Rules – the BIG difference
 Steve Coburn does not have a snowball's chance* in changing horse racing's institutions much less the Triple Crown because he does not have the "connections."  In contrast, certain of the largest, most sophisticated financial institutions before (now called Too Big to Fail, and by the Federal Reserve Board and the Dodd-Frank Act "Systemically Important Financial Institutions" SIFI's for short) and after the global financial crisis spent hundreds of millions perhaps billions of shareholders' dollars on lawyers, lobbyists, campaigns to legally influence certain elected individuals, legislation and appointees at agencies (requiring no direct Congressional oversight) to build up connections in the event they experience/d "adverse" events.   And when they did, they knew exactly who to go to and what cards to play.
To this day certain institutions (banks, regulators, policy makers, agencies and ratings agencies alike) struggle under a lingering cloud of suspicion and distrust.  The lingering is due in large part because institutions are not people, ONLY when and if certain people are held appropriately accountable then the cloud will begin to lift.  Markets and ALL (writ large) participants deserve nothing less.
*Few, if any would have EVER predicted in 2008, the Fed would own over $4 Trillion worth of government and agency mortgage – backed securities in 2014.
When we look back at the GFC (Global Financial Crisis) & Rules changes
What "rules" changes took place, accompanied by hundreds of billions of dollars worth of indirect and direct support in a matter of days, weeks or months?  No less than every one of these, the discount interest rate was slashed to zero from 5.25%, programs such as TAF, PDCF, TARP, CPFF, AMLF, TSLF, MMIFF were implemented (including 2007 exemptions to FRB Rule 23 A) PLUS we still have a $4 Trillion Federal Reserve balance sheet.
Bear in mind, there was no act of God here, no black swan, it was all 100% man made, accounting fictions, by those at only the largest, most sophisticated financial institutions.  It was all controllable by those in position (and with plenty of authority) to do so – from the start.
A Wall St Journal reader named "The OZ" commented August 28 2007
Maybe they have enough to give away… how long can the $Muck Money printing co. run? Not many, really have a grip yet on the …REAL (underlying)ISSUE – ISSUSES here?
The Fed said it themselves, we have 200 Billion (paper money) (no gold standard) ready to inject into the banking industry! Did any one stop and think that maybe that's all they might have available, for now? Question: Where would they have to go to get the rest of the injection that's going to be needed in order to stop the massive economy credit debt/subprime problem from bleeding itself to death? Maybe…Just Maybe, the Fed is close to being overextended also? And everyone is screaming cut… cut…cut the FUND RATE… ask why?
Question; can Uncle Ben pick more peppers in the short term than he can pick in the long term (soft landing)? Fed minutes, are a joke into and unto their selves! Could it be… say it isn't so JOE!
Our government is almost broke and living like the hedge funds, markets, banks, etc – etc and the public has been living like for the last six years? Pension plans, 410K's and SS are going broke… That's a factoid… JOE!
This economy scenario that we are living in today… will take all the kings men… (White House) (Company/s) (Senate) & (House)… all working together in order to put this Humpty Dumpty… back together again! What the heck do I know, Ahhhh…just call CNBC they have a full time staff that can help out and steer you in the right direction! You think!
The OZ
The Pepper Picker aka Student of the Great Depression
I wonder if or when the Student of The Great Depression (TGD) was aware of the few sentences in Moodys' 1907 (not a typo) Annual Report, for that matter I seriously wonder whether Moodys' itself was aware:
A while back I happened upon the Moodys' Annual 1907 (no typo) issue on the occasion of research into the Panic of 1857 in connection with the sinking of the SS Central America, reportedly carrying one third of all the gold mined in California, a reported 480,000 ounces of gold due for New York banks, off the coast of South Carolina during a hurricane in September 1857.  (February 2018 update: for those interested some of the recovered California Gold Rush treasure including gold coins, a rare rainbow gold coin piece, gold and silver ingots, even an intact poke of gold dust will be on display at the Long Beach Expo.)  The Annual, available on Google books (btw big kudos to Google books) contained an illustrative but brief paragraph:
These amounts due interior banks give these interior institutions command over the cash reserves of the New York banks. Practically every dollar of cash reserve $230,000,000 is subject to call by the interior banks.  Three committees of the Clearing House that investigated the subject reported that the financial panics of 1857, 1873 and 1884 were precipitated by the calling of reserve money by interior banks. [Not one, not two but fully three committees.]
As the bard says "past is prologue."
If only our banking supervisors, regulators and policy makers were like most horsing racing fans we would still have the true sport of free – market "Capitalism."
 For more support@fiduciaryexpert.com or (310) 943-6509
Copyright Chris McConnell & Associates 2014 All rights reserved